The Best and Appropriate Ways to Import EML Files into Outlook
There are both manual and automatic methods. Both are easy to use. But manual methods need some technical experience. However, keep reading the article. There is a possibility that you will be able to import your EML files manually. Otherwise, lastly, we have discussed third-party software you can use.
Way 1: Import EML files just by clicking.
Have you been surprised by the title's claim that you can do it with a single click? Actually, all methods or ways have a unique situation. You can just import a single EML file into Outlook with this process.
Actually, if you have an EML file and Outlook installed on your PC, then you need to just double-click on the file. Then the file will automatically open in Outlook. But if it doesn't occur, then you have to make Outlook the default opener for these EML files. For that, you need to follow the steps as below.
Just toggle your mouse over the EML file and right-click on it.
Afterwards single-click on the "open with" option.
Select the "Outlook" program from the list of options.
If you double-click on that EML file, it will open in Outlook.
Way 2: Using MS Outlook, drag and drop to import EML files.
To follow the steps, you must have Outlook installed on your device. Now that you've done that, proceed as follows:
Launch the Microsoft Outlook application.
Choose the files by moving your pointer to the directory where your EML files are located.
Drag and drop the files you've chosen into an Outlook folder (you can select all files at once).
After dragging all of the EML files into a designated folder in Outlook, you are finished importing them. They may now be opened and seen in your Outlook account.
Way 3: Using Windows Live Mail, import EML files.
You should create a backup of your data before beginning the operation. Because there is a risk of the loss of your mail data. Then apply the steps as follows:
Open the Microsoft Outlook and Windows Live Mail applications on your device.
Press on the 'File' tab in your Windows Live Mail. Next, choose Email after selecting the Export choice.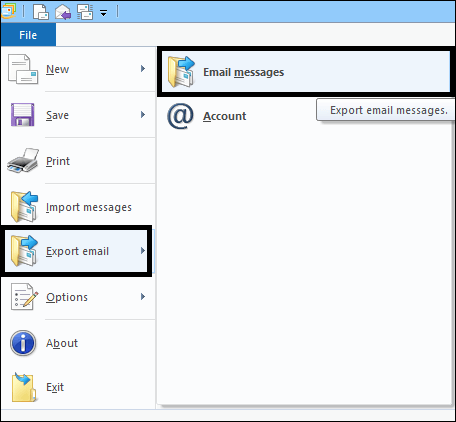 After you've completed the preceding steps, select MS Exchange as your export choice. Then click the Next button.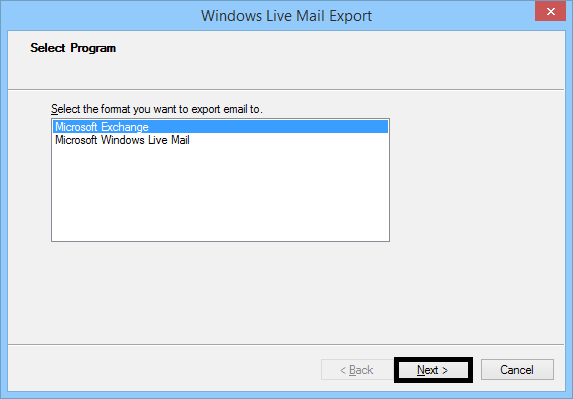 Meanwhile, a pop-up window opens alerting you that every one of your emails has been exported to either MS Outlook or Microsoft Exchange. Hit the OK button.

You must now either import all of your email directories or pick only the required folders to export the data through Choose Folder.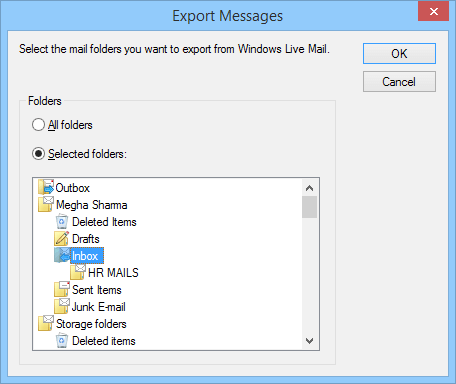 When you're finished with this stage, press OK. You must now enable the export procedure to be completed successfully.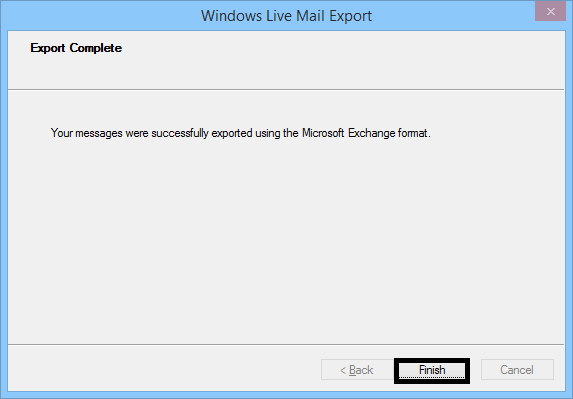 When your Export Finished window prompts you, press the Finish icon.
Way 4: Let's use professional software.
The Regain EML to PST converter is a professional software that can easily convert your EML files into PST format. So, you can understand that the automatic method is through a conversion process. However, MS Outlook supports EML files, so you can easily import them.
But different situations arise when you are unable to import directly. In that scenario, importing EML files to PST is the best solution. Besides, you can get more facilities using this software than with the manual methods.