Use the Inbox Repair Tool (ScanPST.exe)
For the purpose of restoring your Outlook data file (PST), utilize the Microsoft inbox repair program, which is by default installed on your computer. Before you can use ScanPST, you must first know the location of ScanPST.exe. But according to the versions of Outlook, its location is different. You will find the location for each version as follows:
For Outlook 2007: C:\Program Files (x86)\Microsoft Office\Office12

For Outlook 2010: C:\Program Files (x86)\Microsoft Office\Office14

For Outlook 2013: C:\Program Files (x86)\Microsoft Office\Office15

For Outlook 2016: C:\Program Files (x86)\Microsoft Office\root\Office16

For Outlook 2019: C:\Program Files\Microsoft Office\root\Office16
Whenever you locate ScanPST.exe, it isn't your last step. You need to carefully follow the instructions as follows to restore Outlook data file.
1. Open Outlook and go to the "File" tab, then select "Account Settings" and "Data Files"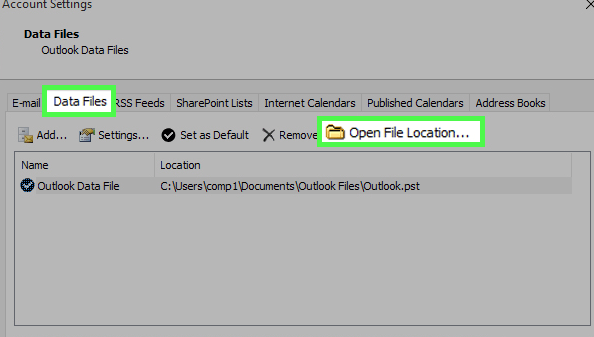 2. Then choose the corrupted files with the extension of.pst from the list of Outlook data files.
3. Press "Open File Location" and make a note of the PST file's location (just copy the path).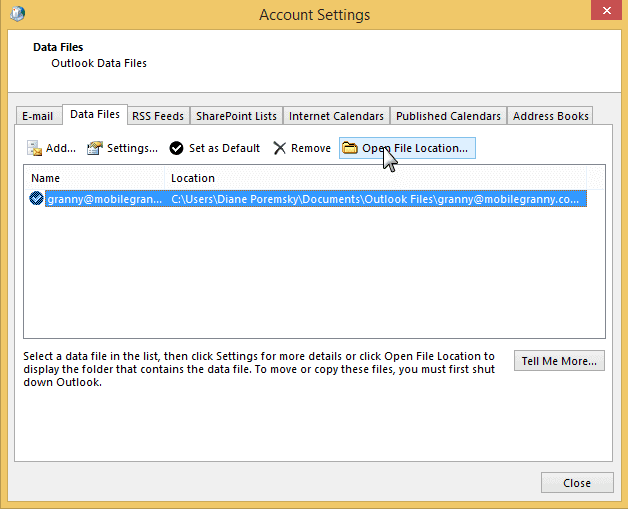 4. Next, browse to the previously located ScanPST folder and double-click the.exe file to launch the application.
5. Choose the corrupt PST files by clicking on Browse, and you can also get help by pasting the previously copied path.
6. Then, press the Start button to begin the repair procedure.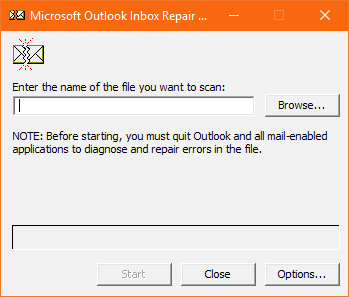 7. When the scanning is finished, you will receive a notice indicating either that no mistakes were discovered or that errors were identified.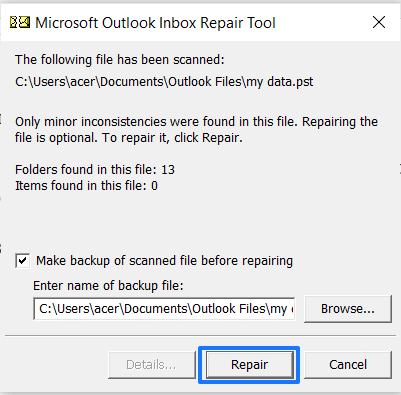 8. If the application detects any issues in the Outlook data file, hit "Repair" to repair it.
However, to thoroughly restore your personal folder (.pst) file, you may need to execute the Inbox Repair Tool numerous times. Then the Inbox Repair Tool is not capable of repairing every problem that is found. Items that have been permanently destroyed or damaged beyond repair may not be recoverable in some instances.
Now what can you do for OST file repair? The simple answer is that you can use the same ScanPST to repair the OST files. Overall, true to say, the Inbox Repair Tool isn't suitable for all situations.
However, the most effective technique to repair Outlook data files (OST or PST files) is to utilize a third-party PST file repair software. While selecting an acceptable PST repair tool, it is critical to examine the software's safety, consistency, and performance. Don't worry, in this article you will recommend reliable software.
Using the Regain OST Recovery tool, you can repair Outlook data files.
Outlook saves its offline data files in OST format, which can become corrupted and cause numerous errors.This program effectively repairs faulty or damaged offline OST files and restores all the data in usable Outlook PST format. Using this software, repairing an OST file is as simple as a few mouse clicks. It can retrieve all OST files such as mail, calendars, contact information, events, activities, diaries, notebooks, and so on.
Some simple and basic steps to repair or recover your corrupted OST files in PST format with the Regain OST Recovery software.
1. First, download and install the software on your device.
2. Then, after running the program, browse for and choose the required OST file.
3. Analyze the scanned OST file mailbox items and press the "Export" button.
4. Browse and pick the appropriate place and format.
5. To save the file, click the "Save Now" option.